Calendar Wizard
Personalize your year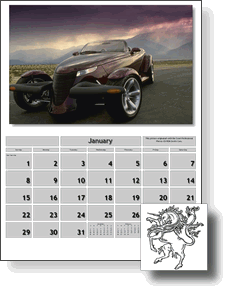 For Windows XP, Vista, Windows 7, Windows 8, Windows 8.1, Windows 10 and Windows 11.
Calendar Wizard will create and print calendars. Unlike commercially available dog calendars that never seem to offer the breed you like, Boris calendars that aren't as adventurous as you remember them being in years past and bank calendars which you know full well are only free because the bank wants your money, Calendar Wizard's calendars can be customized to suit your taste and whatever pictures you'd like to look at for the next twelve months.
Create calendars of your family and friends, the greatest carburetors of the 1950's, breathtaking images of mildly repulsive wildlife, your proudest golf swings, unmentionable graphics downloaded from the Internet, your twelve favorite Grateful Dead album covers, close-up photographs of the moons of Jupiter, famous people with last names no one can easily remember at a party, your entire collection of decorative socks... the list is endless.
Calendar Wizard's calendars also make excellent gifts if you're really cheap.
Easy to use and quick to learn, Calendar Wizard will have you denuding acres of old-growth forest to create professional, attractive calendars in minutes. Its internal pagination function can print double-sided calendars which hang like conventional bank calendars — even if you don't have a double-sided printer.
This software is available for electronic delivery and on DVD-ROM.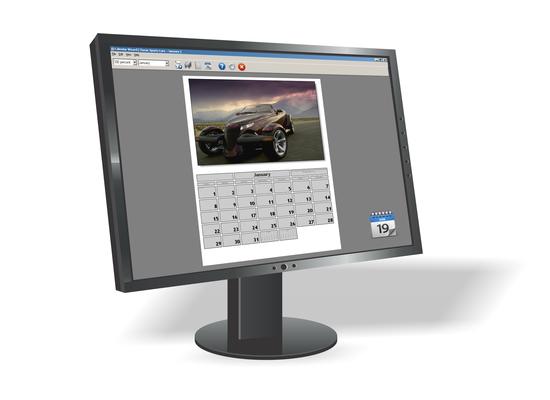 Calendar Wizard's Features Include:
Build complete calendars in minutes.
Create dodecahedral calendars — 12-sided three-dimensional desk calendars.
Create compact wallet calendars.
Import graphics from many popular Windows applications.
Create calendars for any year from 1583 onward — perfect for friends who seem to be living in a time warp most days.
Add your own important dates to your calendars.
Exchange calendar files with other users of Calendar Wizard.


Should you wish to contact us about this application, please send us some e-mail.
IMPORTANT: Calendar Wizard requires access to the Internet to validate itself after installation. Please see the discussion of registration key security for a detailed discussion of this functionality.
CALENDAR WIZARD COSTS
$29.99
Download
You can ensure yourself of a problem-free installation by reviewing our downloading and installation instructions. Downloadable installers can be used to install either an evaluation copy or a fully-functional registered copy of Alchemy Mindworks' applications.

Unknown Publisher Warning: You might see a warning during download or installation of our software to the effect that the publisher of these products could not be verified. We invite you to read a more detailed explanation of these messages. They can safely be ignored or disabled.
Smart Screen Warning: You might encounter a large blue window when you run one of our installers to the effect that Windows Protected your PC, and that the "app" in question is unrecognized. You can safely ignore this — click on More Info and proceed to install the software. Please read the Smart Screen notice for more about this, and for assistance with disabling this feature.
Norton Antivirus: If you're running Norton Antivirus, please read the WS.Reputation notice before you download an installer from this page.
Downloading: Note that you'll probably need to actually click on one of the following DOWNLOAD buttons to download an installer, rather than copying and pasting its link, or using it with a third-party download manager.
The DOWNLOAD UK button points to our server in Great Britain. If you're outside North America — or if you're encountering issues downloading from our primary servers — please try the one in the UK.
Several web browsers have removed support for FTP downloads — that would be the DOWNLOAD FTP button below. If you click on DOWNLOAD FTP and nothing useful happens, yours is one of them.
If you encounter a problem downloading one of our installers, we're here to help — please contact us and let us know what happened.
Installing: Be sure you're logged into your system as a normal user, not as Administrator, when you install and subsequently run this software.
---
Calendar Wizard is available in 32- and 64-bit editions. The 64-bit edition is supported by 64-bit Windows 10 and 11. The 32-bit edition will run under any version of Windows right back to Windows XP.
Click on one of the following links to download Calendar Wizard 64-bit 14.0a revision 2. This file is 20,578,816 bytes in length.
Click on one of the following links to download Calendar Wizard 32-bit 14.0a revision 2. This file is 21,241,344 bytes in length.
The downloadable installer for Calendar Wizard includes an example calendar that illustrates some of its coolest features.
Alchemy Mindworks' applications won't install spyware, malware or other invasions of your privacy, and we're extremely careful about virus scans. Learn more about the security of our downloaded installers.
---
As of this writing, if you have previously registered or upgraded to Calendar Wizard 12, you can still upgrade to Calendar Wizard 14 for half price. We are able to provide some limited support for the version 12 software, but it's becoming increasingly vulnerable to changes in Windows and some third-party security products.
If you have previously registered Calendar Wizard 12 and you need to download the final release to reinstall your software, please contact us for a download link. Be sure to include your Calendar Wizard 12 registration name and key.
Calendar Wizard 2 through 11 have reached their ends-of-life, and they have been removed from distribution. We no longer have replacement installers for these products. We are able to provide replacement registration keys and limited support for Calendar Wizard 11. We recommend that you register Calendar Wizard 14.
Calendar Wizard™ is a trademark of Alchemy Mindworks Corporation.
The monitor graphic is used under license from DryIcons.